No one is immune from cybercrime. Large corporations, government facilities, family businesses and individuals are all prey for hackers. In 2022, Americans lost $10.3 billion to a wide variety of internet scams. (1)
According to the FBI's Internet Crime Complaint Center (IC3), more than 2,000 complaints are reported daily. Further, Donna Gregory, the unit chief at IC3, states only 10-12% of cybercrime victims reach out for help. (2)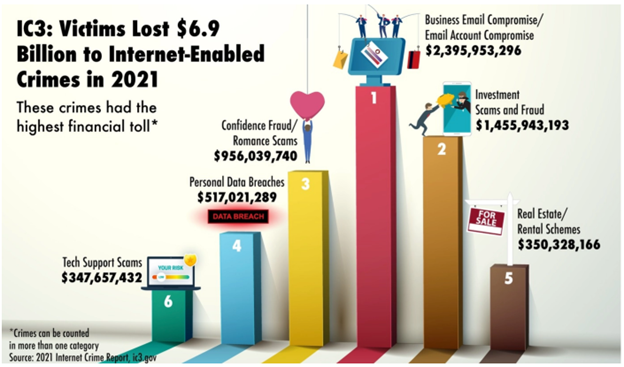 Keeping up with criminals on the dark web is daunting for those not familiar with tech however, turning a blind eye to holes in your cybersecurity is no longer an option.
Consider these facts about the dark web:
For $1 you can get the tools to install a malware application on someone's PC
For $3 you can get someone's date of birth and social security number
For $25 you can get a digital copy of a fake driver's license or passport. (2)
A small investment for a hacker can lead them to great rewards. As if those stats are not scary enough, consumers are making it easy for hackers to access their personal information. According to a survey conducted by Chubb, half of consumers in the US and Canada, including the wealthiest families, continue to use the name of their pet, or a similarly identifiable name or date, for their new password. It is time the general public educates themselves on cybersecurity.
Where Do I Start?
In 2022, Chubb found that 92% of consumers are concerned about a cyber breach exposing their personal information or identity but only 51% are doing anything about it. (3) Proactive steps are necessary to keep your personal information and finances safe. Begin with these cyber threat mitigation efforts:
• If you do not recognize the sender, delete the text or email.
• Navigate directly to trusted sources via your web browser (if you're on your computer, your browser should be protected by antivirus and spyware software that you've purchased and installed).
• Be wary of social media offers, articles or links that promise vaccine information, as these can be fraudulent attempts to access your personal information.
• Never provide personal or financial information online or via a telephone solicitation.
• Do not allow your computer to autofill passwords.
• Do not access financial or other personal accounts on public Wi-Fi or on a mobile device.
For more best practices, see USI's Cyber Safety Checklist.
Large corporations, government facilities, family businesses and individuals would benefit from a cyber audit. Bringing in a third party to evaluate your cybersecurity, although scary, is necessary. Once completed, the auditor provides a list of prioritized recommendations to strengthen your defenses. According to Tony Gebley of Annapurna Cybersecurity Advisors "By starting with an audit and following a structured process, you can build a more robust cybersecurity strategy that effectively addresses the cyber threats faced by your organization." Failure to prioritize your risks could result in areas of weakness in your risk management strategy.
What Do I Do Next?
After your audit is completed, it is time to create a plan of action or framework. The framework should outline your approach to cybersecurity and address the prioritized concerns uncovered by your audit. While the goal of the framework is to prevent criminal activity, it must also be user friendly. As you build out your action plan, create a best practice guide and implement controls to ensure everyone is adhering to those practices. The framework should be viewed as a fluid document. Revisit it regularly to keep up to date as new threats arise.
I Implemented My Plan, Now What?
Keep investing, learning and improving security. One of the easiest ways to improve security is to install updates. "A system with out-of-date software is like a house with doors cracked open or windows thrown wide. By leaving software updates uninstalled, you're leaving openings for cybercriminals to exploit." (4) It is impossible to eliminate all risks so, focus on the most significant risks and address them accordingly. If you are hacked, have a strategy in place to allow a quick rebound to avoid significant disruption.
I Took All the Steps and Still Got Hacked. What Now?
Even if you do everything right, there is still a chance your efforts may be futile. You should have a backup plan. This is where cyber insurance comes into play.
Cyber insurance is not a one size fits all type of coverage. USI recommends working with a trusted advisor, to create a custom-tailored policy that meets your needs. When considering what coverages are important to include in your cyber policy consider the following: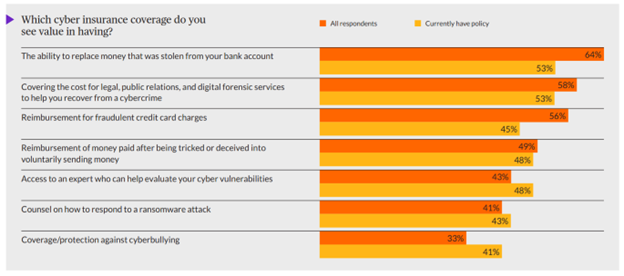 (3)
Remember, cyber insurance should be a last resort. Chubb also reported that cyber policyholders are less likely to take precautions to protect themselves compared to those without cyber coverage. Creating a holistic risk management plan around your cyber needs is the best, most prudent course of action.
How USI Can Help
USI aims to provide you with the information, tools to make informed decisions about risk management strategies to safeguard your family and family businesses. To learn more about cyber best practices, see USI's Cyber Checklist or to receive a multipronged, comprehensive, personalized risk management plan, please contact us at [email protected]
(1) Americans lost $10.3 billion to internet scams in 2022, FBI says. The revelation was part of an annual report produced by the FBI. By Luke Barr, arch 13, 2023
(2) https://dataprot.net/statistics/cybercrime-statistics/.
(3) Chubb Personal Risk Services Fifth Annual Study on Personal Cyber Risk
(4) https://arcticwolf.com/resources/blog/update-your-software/
About USI Insurance Services
From many great individuals USI has become one unique industry leader. USI began in 1994 with a single office of $6.5 million of revenue and 40 associates. Today, USI is approaching $2 billion in revenue with more than 9,000 associates in approximately 200 offices across the country.
#incometax #taxseason #federaltaxpolicy #taxation #EstateTax #Deathtax #wealthtax #taxLegislation #CongressionalCaucus #CapitalGainsTax #incometaxrates #incometaxseason #taxrefund #taxreturn #incometaxreturn #gifttax #Generationskippingtax #InheritanceTax #repealestatetax #FamilyBusiness #promotefamilybusinesses #familyowned #supportlocalbusiness #womeninbusiness #AdvocatingForFamilyBusinesses #Generationallyowned #Multigenerationalbusiness  @FamilyEnterpriseUSA @PolicyAndTaxationGroup @DitchTheEstateTax #FamilyEnterpriseUSA #PolicyAndTaxationGroup #DitchTheEstateTax