First Congressional Family Business Caucus Spotlights Education, Representatives' Experiences with Family-Owned Business
Caucus Co-Chairs Henry Cuellar (D-TX) and Claudia Tenney (R-NY), and Other Congressional Representatives, Speak on Key Issues Facing Family Businesses
New 2023 Family Business Survey Results Unveiled with Income Tax Issues
Ranking as Top Worry, along with Labor Concerns
The first meeting of the new Congressional Family Business Caucus was held here last week with co-chairs Henry Cuellar (D-TX) and Claudia Tenney (R-NY) speaking to a group of family business owners, caucus sponsors, and other congressional leaders.
The first meeting's focus was on educating Congress on the importance of family businesses to the U.S. economy, which contributes $7.7 trillion annually to the U.S. gross domestic product, according to research.
The meeting began with Pat Soldano, President of Family Enterprise USA and the Policy and Taxation Group, both advocates for family businesses and sponsors of the Caucus, opened the meeting by providing an overview of the Congressional Family Business Caucus, and highlighting its unique role as a bipartisan, bicameral caucus aimed at educating Members of Congress on family business issues.
Co-Chairs of the bipartisan Caucus are Representatives Jodey Arrington (R-TX), Brad Schneider (D-IL), Claudia Tenney (R-NY), and Henry Cuellar (D-TX).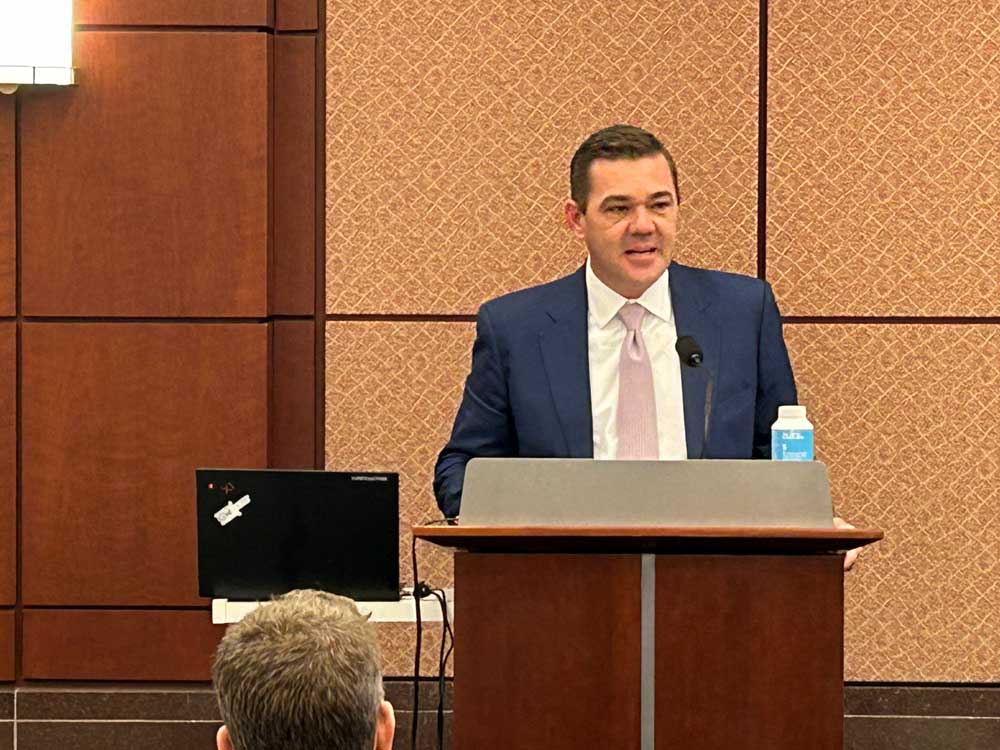 Rep. Cuellar kicked off the co-chair view by offering remarks focused on his experience as a family-business owner, including complying with complex regulations and Congress' role in passing legislation aimed at assisting family-owned businesses. Rep. Cuellar concluded his remarks by encouraging family business owners to invite their Members of Congress to tour their businesses and share their stories.
Caucus attendees, which include many family business owners and family business office executives, next heard from Tommy Brown, Legislative Director for Rep. Schneider, who discussed Rep. Schneider's interest in supporting the Caucus's important role in raising awareness of family business issues. Rep. Schneider sits on the House Ways and Means Committee, a critical committee affecting family business policy.
"The first step for this new Caucus is educating Congress on the scope and size of family businesses in this country," said Soldano in addressing the group. "Family businesses are the largest private employers in the country, accounting for 83.3 million jobs, or 59 percent of the country's private workforce. Family business is big business for this country," she said. "It is not small business."
Rep. Tenney spoke to the Caucus attendees about her experiences as a family business owner and the important role she sees the Caucus playing in supporting family businesses. Rep. Tenney detailed the ways Congress can assist family-owned businesses and promote entrepreneurship across the United States. She also addressed the need to encourage businesses to invest in states like New York, California, and Illinois, which are not typically viewed as business friendly.
The group was also joined by Rep. Greg Stanton (D-AZ), who discussed the role that family businesses play in creating jobs and supporting communities like his in Arizona. Rep. Stanton.
As part of the Caucus meeting Soldano unveiled the new results of the 2023 Family Enterprise USA Annual Family Business Survey.
Income taxes and labor worry are the top issues America's family businesses, according to the new data.
The annual survey, which measures the pulse of America's largest private employer, family-owned businesses found the biggest worry resided in the country's tax policies, with 50 percent of the respondents saying high personal income taxes was their number one concern, up from 45 percent a year ago.
Another primary concern among family businesses was finding, training, and keeping employees, with 31 percent saying this was of critical concern.  Shifting "market conditions" were also a key worry, with 30 percent of respondents citing it as a main worry for the coming year.
Soldano noted from the survey that 74 percent of the family businesses have been in business for over 30 years, 82 percent engaged in philanthropy during the last year, and 91 percent retained their employees during the COVID-19 pandemic.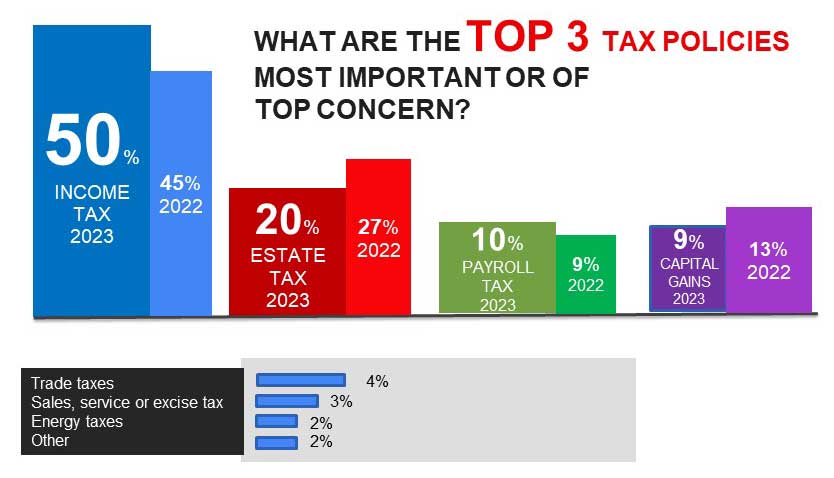 Family Business owners Address Caucus
In addition to Congressional Representatives speaking at the meeting, several family business owners and executives spoke out about their own personal business stories.
Ryan Rogers, CEO of Mary Kay, Inc., and Scott Marshall, CEO of Marshall Farms Group, presented their family businesses and the impact they have on their communities. Rogers highlighted Mary Kay, Inc. is celebrating its 60th anniversary in 2023, and discussed how family businesses invest in their employees and invests in women's cancer research.
Marshall presented how Marshall Farms Group's commits to its employees and philanthropy, including how the business invests in employee health benefits and retirement plans.
Ben MacAskill, President of SmugMug, discussed his business' global footprint and how he can support other family businesses through his platform. He also discussed how long-term planning has allowed his family to focus on developing the Flickr Foundation, which works with national museums to make historical documents available to the public.
Mike Mitchell, Executive Director of the High Center, Elizabethtown, Pa., a family business center, shared ways the High Center supports nearly 200 family businesses in learning best practices. He also shared his own experience as a family business owner, noting the risk and financial burdens involved with starting a family business.
#incometax #taxseason #federaltaxpolicy #taxation #EstateTax #Deathtax #wealthtax #taxLegislation #CongressionalCaucus #CapitalGainsTax #incometaxrates #incometaxseason #taxrefund #taxreturn #incometaxreturn #gifttax #Generationskippingtax #InheritanceTax #repealestatetax #FamilyBusiness #promotefamilybusinesses #familyowned #supportlocalbusiness #womeninbusiness #AdvocatingForFamilyBusinesses #Generationallyowned #Multigenerationalbusiness  @FamilyEnterpriseUSA @PolicyAndTaxationGroup @DitchTheEstateTax #FamilyEnterpriseUSA #PolicyAndTaxationGroup #DitchTheEstateTax