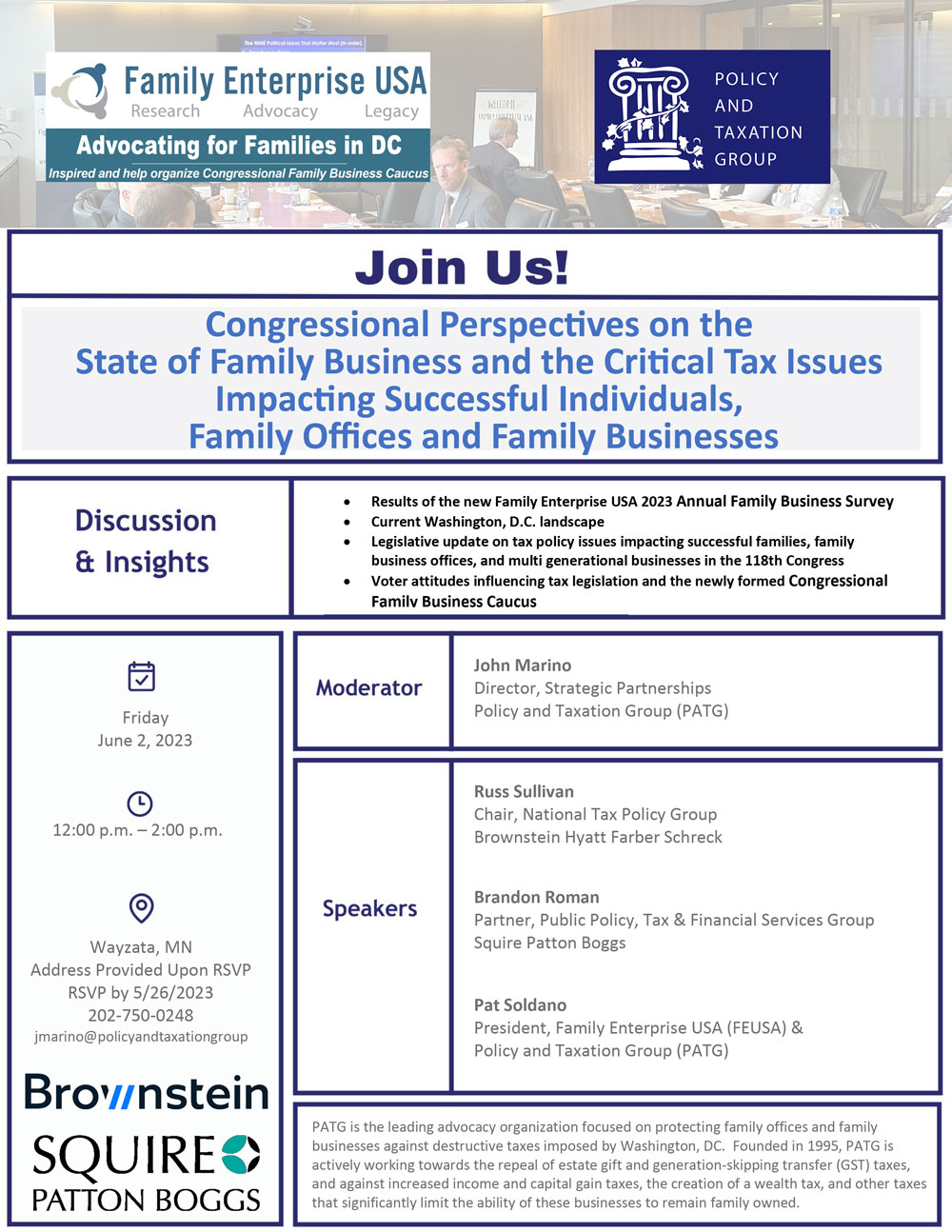 We hope you've enjoyed this article. While you're here, we have a small favor to ask…
As we prepare for what promises to be a pivotal year for America, we're asking you to consider becoming a supporter.
The need for fact-based reporting of issues important to multi generational businesses and protecting a lifetime of savings has never been greater. Now more than ever, multi generational businesses and family businesses are under fire. That's why Policy and Taxation Group is passionately working to increase the awareness of issues important to generationally-owned family businesses built on hard work, while continuing to strengthen our presence on Capitol Hill.  Those issues include Step Up in Basis, gift tax, Valuation Discounts, Capital Gains Tax, Income Tax Rates, Wealth Tax, & Estate Tax (death tax).
---
Policy and Taxation Group is the leading information, education and advocacy organization working for the reduction and ultimate elimination of estate tax, gift tax, and generation skipping transfer taxes, and other taxes that punish hard work and success. Our Mission is to challenge hostile tax policies that meaningfully and measurably impact families and limit the ability of family businesses to remain family owned. We work with Congress in Washington DC against high Income Tax Rates, possible elimination of Valuation Discounts, increase in Capital Gains Tax, enactment of a Wealth Tax, and the continued burden of the Estate Tax (death tax), and the possible elimination of Step up in Basis.
---
#incometax #taxseason #federaltaxpolicy #taxation #EstateTax #Deathtax #wealthtax #taxLegislation #CongressionalCaucus #CapitalGainsTax #incometaxrates #incometaxseason #taxrefund #taxreturn #incometaxreturn #gifttax #Generationskippingtax #InheritanceTax #repealestatetax #FamilyBusiness #promotefamilybusinesses #familyowned #supportlocalbusiness #womeninbusiness #AdvocatingForFamilyBusinesses #Generationallyowned #Multigenerationalbusiness  @FamilyEnterpriseUSA @PolicyAndTaxationGroup @DitchTheEstateTax #FamilyEnterpriseUSA #PolicyAndTaxationGroup #DitchTheEstateTax