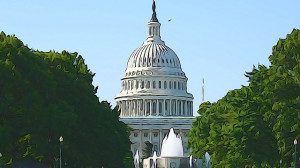 Policy and Taxation Group, a 501(c)(4) organization, is your voice in Washington on economic freedom. We advocate for policies that allow American families to fully enjoy the economic liberties and benefits of a robust free market unique to our nation. For over 25 years, we have been the loudest voice in the nation's capital on eliminating the death tax. This ill-conceived tax has a destructive impact on families, family businesses, job creation, and the national economy.
America's families should determine their financial destinies, not government.
Impact of the Death Tax
Family Businesses
The estate tax threatens up to 40% of a family's business and places their employees and communities at risk by making it nearly impossible for them to compete with corporations unburdened by the tax. Families may have to give up on their American Dream and sell their business in order to pay the tax.
Landowners
Landowners committed to being wise stewards of their property and natural resources invest time, money, and hard wok to generate a long-term benefit for their families. There are many obstacles to their goals, but one that often isn't seen until it is too late is the impact of the federal death tax. Families find themselves needing to sell or degrade pieces of their property to satisfy payment of this onerous federal tax. Not only can this impact carefully designed, long-term management and conservation plans, it breaks up larger tracts of habitat impacting countless wildlife species.
The Dichotomy of Federal Law
Federal tax policy treats timber as capital gains, with the goal of promoting "forest retention by removing pressure to convert timberland to other uses that generate ordinary income more quickly." (National Alliance of Forest Owners)
Yet another section of federal tax policy, the death tax, discourages these practices and encourages conversion. In the end, both families and the environment lose when the death tax bill arrives.
Our work to eliminate the federal death tax will ensure no family ever has to sell their land or convert their forests to pay the IRS after the death of a loved one. It benefits your family, your land, and the wildlife that calls it home.
Environment
Private landowners play a significant role in the conservation of America's natural resources. In fact, 10.4 million acres of land are owned by family forestland owners (US Forest Services 2007). These properties provide wildlife habitat and corridors, recreational opportunities, and are home to endangered species.
The federal government spends billions of dollars to encourage wise management of the natural resources on private lands. From the Conservation Reserve Program to the Swampbuster program, the federal government works to incentivize private landowners to make responsible, long-term decisions that conserve the abundant natural resources occurring on their property. Yet, much of these efforts are undermined through the effect of the death tax. In fact, the U.S. Forest Service indicates that "two million acres of forestland must be harvested and over 1 million acres must be sold each year to pay the death tax." And several hundred thousand acres that are sold each year are converted to uses other than forestland, eliminating any wildlife benefit1.
When these lands are lost for wildlife, they are lost permanently. And the habitat fragmentation effects caused by the death tax reduce wildlife corridors, having a significant impact on species that require large, contiguous blocks of habitat to meet their needs and protect genetic diversity.
The death tax does not just affect the families directly impacted by its burden; it impacts all of us who care about forests, wildlife, and our nation's natural resources.
1 – Exerpted from USDA Forest Service conference, presentation by John Greene.